thumb|300px|right I've post a new video of English battling on my youtube for those that can't get the video on rpgsite.net to load or it's taking too long. It's not much, just Aya having to defeat some monster to enter a building. Also, you get to hear the English Karud "Boss" Owen. I must say he has one of the creepiest voices to me, ever, unless that can be blamed on the electronic thingy connected to the Overdive that Aya's in.
Also, a whole bunch of English screenshots have been added to rpgsite.net, so go have a look at those too.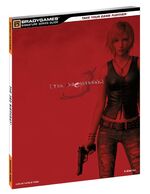 Finally, the guide book has a cover now, it's going to look the exact same bright red as the game. If you haven't pre-ordered the English version yet, Amazon will sell you (and ship) The 3rd Birthday, The 3rd Birthday Signature Series Guide, and Dissidia 012 [duodecim] Final Fantasy for $73.57.
Sources:
Ad blocker interference detected!
Wikia is a free-to-use site that makes money from advertising. We have a modified experience for viewers using ad blockers

Wikia is not accessible if you've made further modifications. Remove the custom ad blocker rule(s) and the page will load as expected.