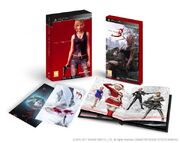 The game will ship as the Twisted Edition as standard, and will feature "a number of exclusive items" as well as a hardback book which will feature art, "two deluxe Aya Brea Lithograph art prints and an exclusive Lightning in Aya Brea costume" for Dissidia 012: Final Fantasy. No word yet on a US version.
The publisher's also announced a celebrity voice cast, featuring Chuck's Yvonne Strahovski as main character Aya Brea and Supernatural's Jensen Ackles as Kyle Madigan.
(This is taken from the European game site, vg247, from their interviews/news. They don't have a release date set yet except "Spring".)
Ad blocker interference detected!
Wikia is a free-to-use site that makes money from advertising. We have a modified experience for viewers using ad blockers

Wikia is not accessible if you've made further modifications. Remove the custom ad blocker rule(s) and the page will load as expected.