Ultimate Being (Parasite Eve)
Talk

0
195pages on
this wiki
The Ultimate Being makes three appearances in the Parasite Eve series. This article refers to the second Ultimate Being that appeared in Parasite Eve (the game) as the final boss and Parasite Eve 2 before Eve is fought. The first appears briefly in the novel.
Ultimate Being (Baby)
Edit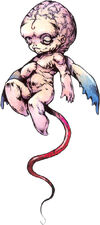 The baby itself features two attacks, one is a shockwave attack and the second is a ground pound that can reduce Aya's HP to 1 regardless. This naturally, makes this fight fairly dangerous.
Statistics
Edit
Ultimate Being (Child)
Edit
After its first defeat, the Ultimate Being transforms into its second, Child, stage. This form features a larger, more inhuman, Ultimate Being with two large wings. Eventually the two parts separate and the Child begins to crawl around while the wings attack Aya with energy beams. The Child fires a long pink beam across the battlefield, it can attack Aya with its claw, and can even leap to Aya when she is far away. The wings fire several energy balls to Aya. It also create a electric wall through its claw and start to fly toward Aya. If it missed it will turn around and try to hit her again. It's recommended to have Burst Shot effect added on your gun.
Statistics
Edit
Hit Points: 950 (top); 1500 (Bottom)
Ultimate Being (Adolescent)
Edit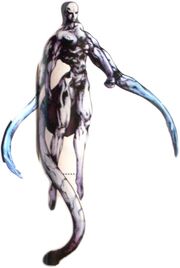 This form has the Ultimate Being become a more humanoid shape and continues its assault. It features a number of powerful attacks such as a high powered energy blast, grabbing and throwing Aya, which reduces her HP to 1 along with an attack that fires several energy spheres at Aya.
Statistics
Edit
Ultimate Being (Adult)
Edit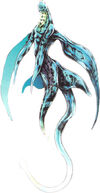 The final form of the Ultimate Being, the adult form has insane defense preventing him from taking damage in most cases, save for 1 or 2 Hit Points. Eventually Daniel will get the special bullets from Maeda and throw them to Aya. With this, you'll be able to deal 999 damage—the maximum—to the Ultimate Being, which will end this boss fight quickly. Its main attack is to produce several energy spheres that attack Aya. With high enough defense this can be negated.
After its defeat, Aya must run away from the damaged but still alive Ultimate Being which will instantly kill her if it touches her. Eventually she overloads the cruiser's boiler and causes the death of the first Ultimate Being.
Statistics
Edit