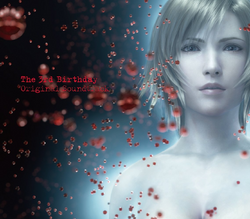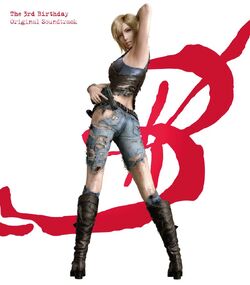 The 3rd Birthday Original Soundtrack contains music from The 3rd Birthday. It is three discs long and was released the same day as the game in Japan. The special version also comes with an exclusive jacket on the soundtrack. It does not contain Superfly's Eyes On Me.
Tracklist
Disc 1
From the End -For The 3rd Birthday-
The Babel: Genesis
Investigation of the Past
Beginning of Breeding
Joy to the World
Flashback
Dive into Myself
Wait for the Combustion
Brave New World
Contact, Freeze, Explode
Unknown Unknown
Equinox of Insanity
Insanity of the Enraged
Reaper
Moment of Humanity
Bloody Black
Frozen Time
The Boss
Arriving Home
Angel's Time
Dive into Myself -Deep Inside-
dayDreamer
Light of Time
Disc 2
Memory II -For The 3rd Birthday-
Ruin
Arise Within You -For The 3rd Birthday-
Moment Of Silence
Time of Insanity
Queen
Cloud of Aureolin
Girl In The Dream
Unforgettable Man
Out Of Phase -For The 3rd Birthday-
Dive Into The Cause
Pain Of Assult
Human Seeker
Human Seeker (Battle Side)
Uncontrol
Monodrama
Crossing Time, Crossing Mind
Dr. Maeda (or How I Learned To Start Loving DNA)
End Of The Investigation
Worm
Fright Night
Desperation
Ray Of Hope
Triumph Of Wing
Cityscapes
Crimson Eyes
Unforgettable Man -Return To Me-
Disc 3
King Of Closing Time
A Piece Of Remain -For The 3rd Birthday-
The Way Things Are
Into The Babel
Escape From UB -For The 3rd Birthday-
Terminus Zero
Immortality of Time
Blue Of The End
Dive Into Myself -Changing To...-
"Watchet auf, ruft uns der Zeipunkt Null (Based On A Cantata BWV140 by J. S. Bach)"
The End -Back To The Beginning-
Come Again To Christmas
Screaming
Primal Eyes -For The 3rd Birthday-
Brea The Brave
Theme Of Aya -The 3rd Birthday Early Essence Arrange-
External links
Ad blocker interference detected!
Wikia is a free-to-use site that makes money from advertising. We have a modified experience for viewers using ad blockers

Wikia is not accessible if you've made further modifications. Remove the custom ad blocker rule(s) and the page will load as expected.