Rat

Statistics
Level
HP
EXP
BP
2
12
2
5/2

Rounds
Cyanide
Acid
Tranq.
Heat
Freeze
Weak
Average
Weak
Weak
Average

Other
Confuse
Steal
Scan
Slow
Escape
Weak
Average
Weak
Strong
Possible

Item
Ammo+6, medicine 1
Steal
Ammo+6
Attacks
Fires three firball projectiles from it's tail, will bite Aya if she gets close
Location
Theater basement, sewer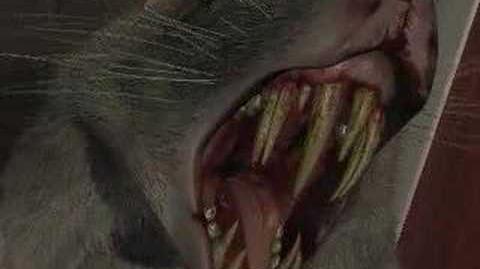 Rats are the first NMC that Aya Brea encounter in Parasite Eve. They appear throughout the rest of the game in different types. It was first encountered at Carnegie Hall as Mitochondria Eve made her escape. A defenseless rat is transformed into the creature but is soon put down by Aya.
Types
Basic Rats (simply known as Rats)
Yellow Rats
Grey Rats
Giant Rats
Golden Rats
Strategy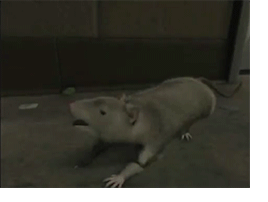 Rats are fairly easy creatures to handle, especially when they are on their own. Their greatest ability due to their changed mitochondria is that they can send out three fireballs from their tails but have a remarkably fast bite if you get too close. The fireballs are easy enough to dodge if you stand directly between them, while it's usually best to stay away from them to avoid the bites. Theater rats shoot fireballs wherever they're facing, but later versions will face you before attacking. Towards the end of the game the rats get bigger but there is nothing new about them except their size.
Basic Rat Stats
HP: 12
EX-Mode HP: 16
EXP: 2
Drops: Ammo +6
Steal: Ammo +6
Weak: Poison, Heat, Confuse, and Tranquilizer
Location: Theater Basement and Sewer
Yellow Rat Stats
HP: 70
EX-Mode HP: 97
EXP: 26
Drops: Medicine I
Rare Drop: Tool
Steal: Ammo +6
Weak: N/A
Location: NYPD
Grey Rat Stats
HP: 215
EX-Mode HP: 300
EXP: 135
Drops: Ammo +30
Steal: Ammo +30
Weak: N/A
Location: Warehouse
Giant Rat Stats
HP: N/A
EX-Mode HP: 790
EXP: 562
Drops: Medicine 3
Steal: N/A
Weak: N/A
Location: Chrysler 51-60
Golden Rat Stats
HP: N/A
EX-Mode HP: 590
EXP: 327
Drops: Ammo +30
Rare Drops: Revive
Steal: N/A
Weak: Poison, Heat, Confuse, and Tranquilizer
Location: Chrysler 51-70
Gallery