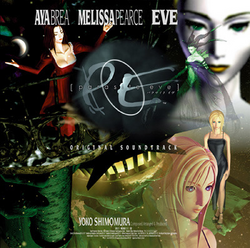 Parasite Eve Original Soundtrack is the musical score of Parasite Eve. It is composed by Yoko Shimomura. The ending theme, Somnia Memorias, was sung by Shani Rigsbee. It was released on May 21, 1998, in Japan.
Tracklist
Disc 1
Primal Eyes
Waiting for Something to Awaken
Overture
Se il mio Amore Vincino
Memory
Gloom and Doom
Theme of Mitochondria
Soft Voice
Arise Within You
Main Theme
The Surface of the Water
Aya and Eve
Out of Phase
Urban Noise
Mystery Notes
Influence of the Deep
Phrase of Aya
Phrase of Mitochondria
Theme of Aya
Under the Progress
Plosive Attack
Missing Perspective
Memory II
Force Trail
Phrase of Eve
Memory III
Disc 2
Matrix
The Omission of the World
Wheel of Fortune
Kyrie
Across the View
Femmes Fatales
A Piece of Remains
Musica Mundana
UB
Escape From UB
Main Theme
Theme of Aya
I Hear Someone Asking Me to Awake
Consensous
Someone Calls Me
Main Theme Orchestral
Influence of the Deep
Se il mio Amore Vincino
External links
Ad blocker interference detected!
Wikia is a free-to-use site that makes money from advertising. We have a modified experience for viewers using ad blockers

Wikia is not accessible if you've made further modifications. Remove the custom ad blocker rule(s) and the page will load as expected.