Parasite Eve is a video game series developed by Square Enix based on a novel of the same name, written by Hideaki Sena. The novel was also adapted into a film.
Video games
Edit
Parasite EveEdit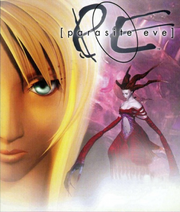 Main article: Parasite Eve
The first game in the series, produced by Squaresoft and released worldwide for the Sony PlayStation in 1998.

Parasite Eve IIEdit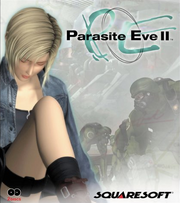 Main article: Parasite Eve II
The sequel to the original game released for the Sony PlayStation worldwide in 1999-2000.

The 3rd BirthdayEdit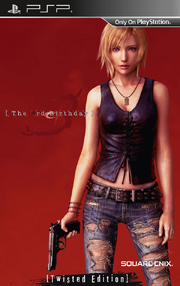 Main article: The 3rd Birthday
The third installment in the series, released for the PlayStation Portable in 2010-2011.
v

·

e

·

d
Characters
Aya Brea - Eve Brea - Kyle Madigan
Rupert Broderick - Eric Baldwin - Gary Douglas - Flint - Pierce Carradine - No. 9 GOLEM - Jodie Bouquet
Neo-Mitochondrial Creatures
Bass - Bat - Black Beetle - Worms (Caterpillar, Maggot) - Amoeba (Green Amoeba, Red Amoeba) - Moth - Rat - Scorpion
Artificial Neo-Mitochondrial Creatures
Stranger (Grinning Stranger, Boss Stranger, Odd Stranger, Lesser Stranger, Creeping Stranger, Horned Stranger) - Stalker (Zebra Stalker, Gray Stalker, Ivory Stalker, Skull Stalker) - Suckler (Blood Suckler, Bone Suckler, Mind Suckler, Sucklerceph) - Scavenger - Chaser (Desert Chaser, Blizzard Chaser, Mad Chaser) - Fatties (Brute, Mossback, Slouch) - Diver (Bog Diver, Sea Diver) - Stinger (Brain Stinger, Puppet Stinger) - GOLEM (Pawn GOLEM, Rook GOLEM, Knight GOLEM, Bishop GOLEM)
Machines
Watcher - Derangement Speaker
Unique Neo-Mitochondrial Creatures
Boss Stranger - No. 9 GOLEM - Gray Stalker - Burner - Blizzard Chaser - Ivory Stalker - Glutton - Generator (Proto Generator, Beta Generator) - Sea Diver - Puppet Stinger - Brahman - Eve
Locations
Abandoned Mine - Akropolis Tower - Dryfield - M.I.S.T. Headquarters - Neo Ark - Shelter
Archives
Bounty Points - Weapons - Armor - Items - Ammunition - Rankings - Modes - Soundtrack