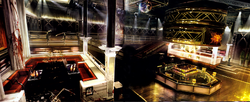 Club Sacrifice is a location in The 3rd Birthday and the area of "Chapter 1: A Brave New World". It is a large music venue in New York City.
Sacrifice Incident
On December 24, 2012, Twisted such as the Helix attacked Ginger's concert mid-performance, killing hundreds of the audience by dragging them into vortexes and bursting their bodies into gore and blood.
From the future, Aya Brea Overdives to this time and aids the National Guards to save civilians, and destroy Twisted and orbs.
In one timeline, it is mentioned there were 294 fatalities (including missing persons), although 42 were rescued.
Ad blocker interference detected!
Wikia is a free-to-use site that makes money from advertising. We have a modified experience for viewers using ad blockers

Wikia is not accessible if you've made further modifications. Remove the custom ad blocker rule(s) and the page will load as expected.