Babel
Talk

0
195pages on
this wiki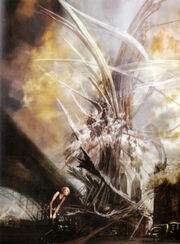 Babel is a giant hive appearing in The 3rd Birthday, first appearring December 24th, 2012. The Babel is implied to bring with it the Twisted, that had appeared two years before it. It is unknown exactly why it's there, but the CTI, which is put together as the first Twisted start to appear, create a system called the Overdive to help clear the monsters and its origins. Aya Brea ends up being the only one capable of handling the Overdive system, however all military is shown fighting against it. The Air Force is seen fighting at the base of the Babel, Aya either in a plane or Overdiving in a plane to defeat the Twisted surrounding it. Although the Babel is said to be the 'base' of the Twisted, the military and its fighting units seem to be focusing more on the Twisted that spawn. This could possibly hint that Aya is the only one able to ascend the actual Babel and not just it's roots.
The Babel is shown to be the cause of all the problems, even if the monsters appeared first. It seems the closer someone gets to a root of the Babel, the more Twisted appear. As far as it's seen, the Babel is nothing more than a location and it hasn't been shown to move or fight so far.
The Babel is named after the Tower of Babel story in the Bible's Book of Genesis story. [1]
Babel plays a very similar role to Tartarus in the video game Persona 3; it is the hive of the monsters and no one knows of its origins.
The official Gamescom 2010 version of the trailer ended with the lines, "You'll see her again. Come to the Babel in the red fog." It's still unknown exactly what this means
The Babel appears two years after the first Twisted descend upon New York, implying the Babel must have either been dormant below the city or might not actually be the cause of the Twisted but a location for them.
In the final Japanese trailer, Aya is seen encountering Eve Brea, Kyle Madigan, and Emily in twisted-like places that look like the possible inside of the Babel. These have been giving strong hints that the three have some connection to the creation of the Babel and/or the Twisted.
The Babel forms
Edit